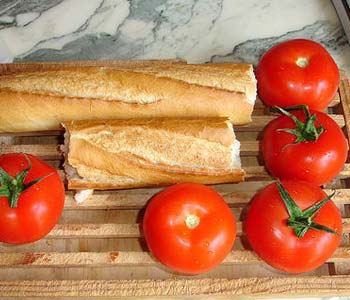 Enjoying either a 1/4 cup of tomato sauce, one cup of tomato soup or 8 ounces of tomato juice each day may reduce your risk of prostate cancer significantly notes Robert Cole, MD., Medical Director and Prostate Cancer Specialist at The Cancer Center in Morristown, NJ. Consuming just one serving per day or five servings per week of tomato products provides an ample supply of the valuable antioxidant called lycopene.
Lycopene is what makes tomatoes red and it's an anti-oxidant more potent than beta carotene.
About 80% of our lycopene comes from tomato products. Tomatoes also contain many other important antioxidants that may protect the DNA of our cells from oxidative stress damage.
Lycopene resides mainly in the fibrous portion of the tomato. It is absorbed best when heated with oil. Therefore, tomatoes in the form of pasta sauce, pizza topping, and soup provide the best vehicles for optimal absorption. Some studies indicate that our cells get better protection from consuming whole tomato products as opposed to taking pure lycopene supplements.
A diet high in tomato products is associated with a 35% to 40% decrease in prostate cancer according to medical research studies at Harvard, Ohio State, and the University of Illinois. So far, most of the studies deal with the prevention of prostate cancer. Dr. Cole adds that there is hope and on-going studies that are investigating the usefulness of tomato products in hindering the progression of established
cancer cells.